Total Spine Center
neurosurgery, pain clinic, oriental medicine
Total Spine Center is composed of specialists of neurosurgery, pain clinic and oriental medicine and carrying out integrative treatment by having the best of surgery, pain treatment and oriental medicine. Total Spine Center considers non-surgical treatment first and will do its best for the spinal health of patients.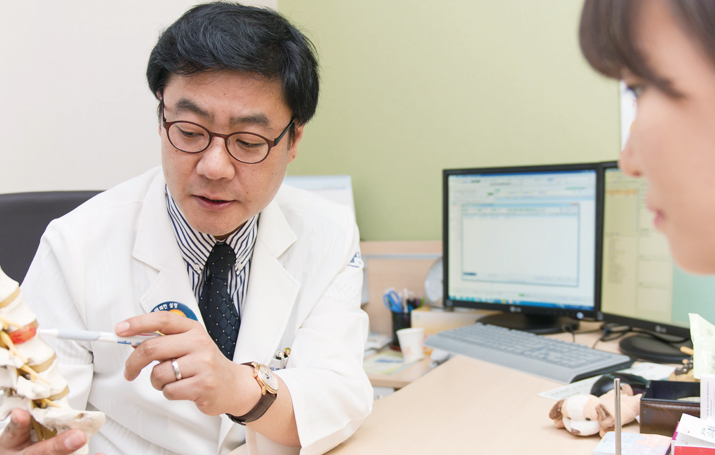 Best surgical and non-surgical treatment with the cooperation of neurosurgery and orthopedics
Neurosurgical non-surgical treatment such as manipulation therapy, decompression therapy, selective nerve root block and PRP injection
Operation and surgery about chronic symptoms; and operation of integrative rehabilitation program through collaborative practice between Western and oriental medicine
Rehabilitation-oriented non-surgical treatment approach through diverse operations
Nerve blocking for pain control under the cooperation between rehabilitation medicine and anesthesiology
Medical team of Total Spine Center
Jong-hyeok Park, manager (MD, neurosurgery specialist)

Neck/herniated lumbar disc, spinal stenosis, spinal trauma, other spinal diseases, cerebral hemorrhage, head injury, hydrocephalus, central nervous system diseases

Jae-hun Noh, manager (pain clinic specialist)

Spine (cervical vertebra, lumbar vertebra) nerve block, vertebroplasty, neuralgia after herpes zoster, frozen shoulder, ligament enhancement treatment, TPI (trigger point injection)

Dae-yong Lee, manager (oriental medicine MD, oriental medicine specialist)

Oriental medicine treatment: apoplexy, digestive system, respiratory system and musculoskeletal pain, vitalization
Tumor treatment: cancer treatment with oriental medicine, complementary/ alternative treatment, Mistletoe, vitamin treatment

Latest 128 channel MDCT (Multi Detector Computer Tomography)

It is possible to obtain 128 precise images with one single rotation.